Once a month,
Mary
, my sister-in-law, Melissa and I try to have a stitch day. We either cross-stitch, embroider, or some kind of hand work. It is usually more of a catch up on our news day or a what should I do about this problem day than anything! But it is good therapy for all of us and we often get a little bit of hand work done too - LOL. Yesterday afternoon I worked on the sampler from the cover of Joyeux Noel: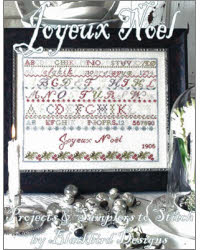 I am using the linen and the floss recommended and the colors are lovely. I didn't get too far - I had a counting malfunction but it is another project that I will show you when it is done.
Melissa is my brother's wife. I have four brothers and I love all of their wives. They couldn't have picked out better ones! They are all different and I love them all for different reasons. Two of them live nearby and two live a distance away so I don't see them as often. I am very lucky to have wonderful in-laws!